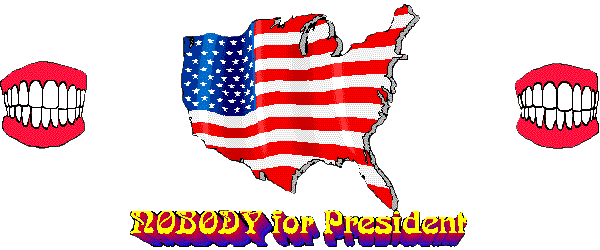 On December 8, 1975, at the United State Cafe, on Haight Street, in San Francisco, I spoke with Wavy Gravy about voter apathy.

I pointed to some statistics that showed people were not registering to vote and aproximately 50% or less of the registered voters made it to the polls.

Wavy responded, "You mean Nobody is winning the Presidential elections?"

That question became the spark that ignited the Birthday Party's "Nobody for President Campaign".

Wavy became "Nobody's Fool", I became "Nobody's Campaign Manager", and the rest is history.
Nobody's History 1975-1984 || Nobody's Photographs || Nobody's Award Video
Nobody's Prestigious Awards and Reviews || Nobody's Campaign Tour
Nobody's Links to Esoteric and Related Political Action Sites
Nobody's Alternatives for the Presidential Election
WAVY GRAVY ICE CREAM RESULTS [CLICK HERE]
[20 Amazing Facts About Voting in the USA]
No Comment


Free Banner For Your Page
Right Click & Save
Nobody is an AKA (also known as) for "None of the Above" and should be included on the voter ballot.

If a majority of people voted for "None of the Above" rather than "voting for the lesser of evils", it might force a situation where American Voters would have to find someone competent to lead them.

The Birthday Party's Nobody for President Campaign is a humorous approach to the elections designed to encourage people to register and vote. It is not an endorsement of mass apathy.
These pages are maintained by Just Another Nobody CopyleftcenterrightŠ 2005 Nobody.
Camel cigarettes had the largest booth at American Medical Association's 1948 convention; boasting, "More doctors smoke Camels than any other cigarette." which is a splendid example of "Profits Not People" and should be a 'Wake Up Call' for HONEST Evaluation of the Dangers and Hazards from Cellular Telephones and effects of amplified microwave frequencies emitting from Cellular repeater sites. -- "It's A Matter of Trust" = Citizen's Against Second Hand Cellular Phone Radiation (CASHCPR), 2005 - Inspired by "edge Wireless", member of the AT&T Wireless Network